NFTS In 2022 - Top 5 NFT Trends To Follow
You probably hadn't ever heard of NFTs (or crypto) before 2021. And you're hardly alone in that. Although not a new concept in the digital world, non-fungible tokens had a breakout year in 2021, achieving mainstream recognition thanks to pictures of pixelated apes, cat memes and internet rocks selling for a
pretty penny
.
The explosion in interest for NFTs has even led to Collin's Dictionary crowning it as word of the year (defined by the publisher as "a unique digital certificate, registered in a blockchain, that is used to record ownership of an asset such as an artwork or a collectible").
The NFT craze has left nothing untouched, from the world of art, gaming, music, entertainment - and even Melania's Trump hat, there's probably now an NFT for just about anything.
Cash rich investors were fully gripped, helping NFT sales hit nearly $25 billion in 2021, compared to $94.9 million in 2021, according to DappRadar. And that is without taking into account 'off-chain' transactions, like major NFT sales by auction houses.
Perhaps as surprising, 10% of American adults now say they own cryptocurrency, with almost two-thirds buying in over the past year, according as per a 2021 CNBC survey.
A pivotal moment for NFTs was the sale of an NFT titled "Everydays: The First 5000 Days" for $69 million (€608 million) digital artist Beeple, auctioned off by Christie's in March of 2021, kicking off a rush for non-fungible tokens across marketplaces like OpenSea (whose transaction volume grew by more than 600% in 2021) and Rarible, as well as play-to-earn games, most notably Axie Infinity.
While some might have a hard time comprehending why digital assets (some more questionable than others) can be worth millions, many see it as the future of the internet, aka Web3, allowing users to prove ownership and authenticity in a 'copy-paste' online reality that is all too familiar to most of us.
And despite a slowdown in overall sales of non-fungible tokens towards the end of 2021, the hype is far from dying down, with more money pouring into NFT marketplaces and the expected release of major NFT projects this year.
With all this in mind, here are some of the top NFT trends to keep track of in 2022.
ENTERTAINMENT
If there was ever any indication that NFTs have become the next 'it thing', look no further than Hollywood. The much-coveted Oscars swag bag included an NFT tribute to the late actor Chadwick Boseman at the 2021 awards, which despite its novelty, still seems a bit more normal than some other goodies in the past.
Tinseltown has fully embraced the world of non-fungible tokens, with celebrities, sports legends, rappers and socialites jumping on the bandwagon. That's unlikely to change in 2022 as the NFT boom looks set to extend further into another year.
Music
Guess who's back, back again? Yes, Eminem. And no, we're not talking about a new album coming out. The legendary rapper was among the first to be seen dabbling in NFTs in 2021 after releasing his 'Shady Con' collection on Nifty Gateway. But he's far from being alone, with superstars like The Weeknd, Steve Aoki, Jay-Z and Grimes joining the ranks of musicians putting out NFTs.
The technology is extremely appealing to artists, especially indie musicians, and the adoption of non-fungible tokens by the industry is only growing. NFTs not only provide another revenue stream for artists, but more crucially, they address the issues of ownership and royalties, giving a level of power to performers that they haven't had until now (we've discussed it more in depth in a previous post about the many uses of NFTs). Moreover, these tokens are also a way for musicians to connect with their fanbase in an entirely different format, letting fans have access to exclusive content and perks.
Sports
There's no denying that sports fans rank amongst the most passionate in the world. Tournaments like the Australian Open can attract as many as one billion viewers and fans are willing to shell out millions for their favorite sporting memorabilia. So it's not surprising that the world's biggest sports leagues have started using NFTs to satisfy the appetitive of fans.
Just this month, the AO announced that it would be taking a swing at non-fungible tokens and the metaverse with an NFT collection tied to real-world match data, in a bid to create a new type of digital fan engagement. This comes on the back of NBA's Top Shot highly successful run, as a result of a partnership between the National Basketball Association (NBA) and non-fungible powerhouse Dapper Labs that allows game highlights to be licensed and used as NFT collectibles. In fact, many would argue that Top Shot set off the 2021 NFT craze with collectibles like a highlight of a LeBron James dunk selling for hundreds of thousands of dollars. Dapper Labs has teamed up with one of the world's biggest soccer leagues, LaLiga, to launch NFT fantasy football cards as it eyes partnerships with more famed tournaments across the world of sports. Accounting firm Deloitte is predicting that the sale of sports-related NFTs will double in 2022, saying millions of fans are set to embrace non-fungible tokens.
Theme Parks and Streaming
Disney is making a bid to become the happiest place in the metaverse. The international entertainment giant recently announced that a patent to provide metaverse functionalities across its amusement parks had been approved, after earlier saying it wanted to start creating experiences "that transcend the physical and digital barrier and unlock new layers of storytelling".
Although no official word has come out regarding NFTs, it's not hard to imagine that Disney (whose mammoth streaming platform Disney+ might one day eclipse Netflix), will soon take advantage of its huge catalogue, including the rights to Pixar, Marvel, Star Wars and Disney Princess content to start selling non-fungible tokens to millions of passionate Disney fans worldwide. And while non-committal on the issue, Apple's Tim Cook hinted last year that the company is "definitely looking at" cryptocurrency and NFTs... Big, if true.
Facebook is now Meta, and that was a very, well, meta turn of events in 2021. So now it's practically impossible to avoid talking about the future of tech without considering the emergence of the metaverse (or several), and the role of NFTs inside it.
Sensorium Galaxy is a metaverse dedicated to high-level entertainment offerings, including virtual reality concerts by legendary music artists like David Guetta, Steve Aoki, Armin van Buuren and Black Coffee. Users will navigate this metaverse through avatars, which they can fully customize and co-create various art forms (like dancing and music-making) with, all taking the shape of NFTs. These tokens can be bought and sold with Sensorium Galaxy's in-platform currency - SENSO. The use of NFTs in metaverses leverages the technology as a way of creating a deeper creation with users and encouraging content creation ecosystems, over which creators retain ownership at all times and are able to easily monetize on.
Upgradable NFTs
Owning an NFT may be cool, but owning an NFT that can be perpetually improved upon and changed it's a whole other animal. That's why Wakatta pioneered a new range of NFTs that are entirely upgradable. And these changes can take any shape or form. A courageous collector could, for instance, draw a red line over a Beeple's $69 million NFT or take Hokusai's recently digitized 'The Great Wave' and add a surfing board on top of it. In fact, Beeple's 'HUMAN ONE' NFT has a similar functionality as the artist will retain control access to the piece and can choose to change it over time, despite it already having been sold. Upgradable NFTs are a major advancement not just when it comes to digital art, but also in music. For example, artists can more easily engage in collaborations and build on top of each other's work without having copyright or other legal issues as it's all part of agreements set by smart contracts. Given its potential, this could be part of the biggest NFT trends this year.
GAMING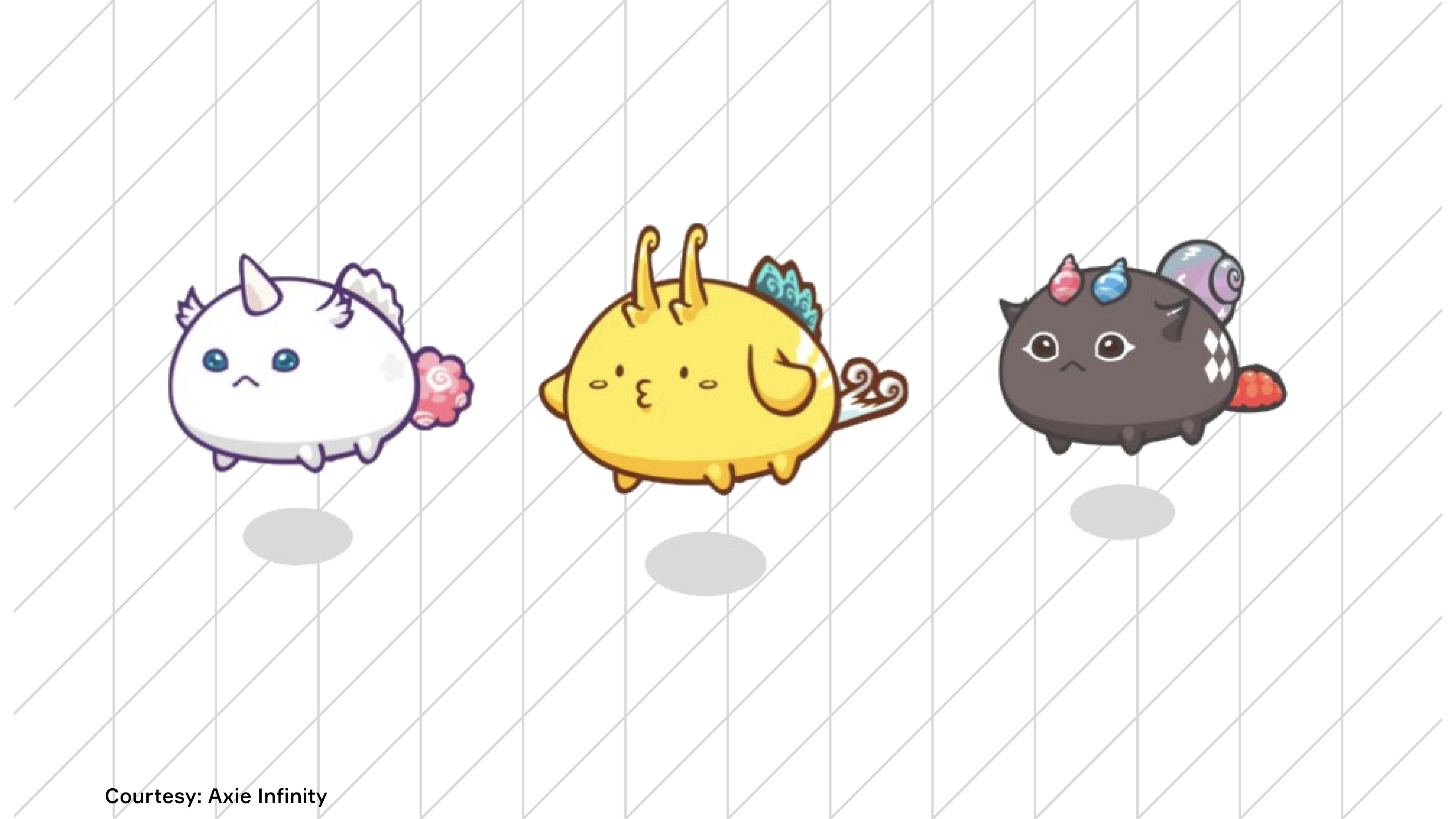 NFTs have injected a second wind into world gaming as part of the rapid rise in blockchain-based games (also known as play-to-earn). This new business model upends decades of dominance by big corporations and studios that, in large part, failed to reward players for the time and effort spent inside games. Play-to-earn games are exactly what the name suggests - they pay players to play (try saying that three times fast). So, gamers are rewarded for playing in return for cryptocurrency, which can then be exchanged for real-life money.
This is made possible because in-game NFT assets like avatars, skins or weapons, for example, truly belong to the player. Once you've paid, say, for a new avatar or a new creature inside a game, that digital asset is yours and you're free to sell it in an NFT marketplace (hopefully, for a profit). NFTs put the gamers at the center of the economic engine of gaming, marking a new era for this type of entertainment (if you're interested, check out our guide to P2E).
No wonder then that play-to-earn gaming has seen a massive boom as of late, led by crypto enthusiasts and Axie Infinity players. Such was the popularity and profitability of the game, that some people have made it their full-time occupation. Axie has reported a trading volume of over $1 billion and a daily active player base of over two million. Other P2E games that leverage NFTs include Splinterlands, Gods Unchained, The Sandbox and Mobox, among others (here's a list of some of the best P2E games to get you started). 2022 will be seeing the rise of yet more P2E titles as it's clearly a business model and a digital transformation that gamers most relate to.
VIRTUAL FASHION
Wearing Gucci, Louis Vuitton or Prada sounds nice and perfectly attainable if you're Emily in Paris (maybe), but it would seriously burn a whole on most of people's pockets. The good news is that in the metaverse, you won't have to worry that much. As the foremost followers of world transformations, fashion powerhouses have too been paying attention to digital trends and have started selling of NFTs of their collections in metaverses like Roblox and Decentraland - and for prices that are much easier on your wallet.
Digital garments are gaining momentum, for big and smaller brands alike, and fueling a new multibillion-dollar industry in the NFT space. The world's first NFT item was launched in 2019 by Dapper Labs in collaboration with all-digital fashion house The Fabricant. Since then, the rise of fashion NFTs has been unstoppable, with Nike, Adidas, GAP and major fashion brands jumping on board.
If you want to step into the metaverse, you'll do so with the help of your digital twin (avatar), and surely you'll want to have it dressed. This is where the fun part starts. Metaverses like Sensorium Galaxy will allow users to take full control of their digital identity and choose from a variety of avatars, customized outfits, looks and skins, among many other options. In a virtual world, users can have an extension of their physical identities or choose to build a new one altogether as they express their creativity in new ways, free from constraints like weight, height, size of the clothes, etc.
It's also a win-win model for designers who can explore new creations with material impossible to use in real-life like fire, water or liquid gold. Fashion NFTs go beyond fabric, physical limitations, durability and many real-world impediments, leading to incredible garments.
The fashion industry accounts for 10% of greenhouse gas emissions, whereas creating a piece of digital clothing is estimated to have 1/ 10 of the impact when compared to the environmental cost of producing a physical garment. As sustainability becomes a growing concern for consumers, many see NFTs as a way of helping reduce waste, overstocking and mass production. It should be noted though, that the process of minting NFTs is hardly environmentally-friendly, so that's worth bearing in mind, too.
After generating over $2.5 billion in sales within the first six months of 2021, compared to the $13.7 million sales of the year before, it can only be expected that the fashion industry (and fashionistas) will continue embracing blockchain technology and the digital trend of NFTs in 2022.
REAL ESTATE
We all know that real estate has gotten expensive. Turns out, the virtual estate is not less in-demand. Plots of lands in the metaverse are now worth a whole lot of money. In November of 2021, virtual estate investor Republic Realm bought land in The Sandbox metaverse for a whooping $4.3 million, while earlier the Metaverse Group (a subsidiary of Tokens.com) had purchased a digital plot in Decentraland for $2.43 million.
Overall, real estate prices in some of the most popular metaverses have surged by as much as 400% to 500% in the last few months, reflecting just how frenzied the race for virtual land has become.
Investors are turning to the metaverse for a number of real estate opportunities, from house flipping to property management and event hosting. We recently put together a guide to real estate in the metaverse, where we take a deep dive into the topic. And looking at the current state of affairs, it seems optimistic to say that 2022 will carry over the NFT trend in the 2022 metaverse-world.
COLLECTIBLES
After the world of digital art, collectives were the second biggest driver/cloudfront-us-east-2.images.arcpublishing.com/reuters/UX6Y7EE475LEBMFZ2EYZQJHHR4.png) of the NFT market in 2021. Whether we're talking about CryptoPunks or The Bored Ape Yacht Club, the value of digital collectibles is nothing to scoff at. CryptoPunks remain at the top of the most expensive NFTs ever sold, as more collectors pile in and try to snap up one of the rare NFTs.
Away from well-known NFT collections, 2022 might see emerging projects like CLONE X – X TAKASHI MURAKAMI or Psychedelics Anonymous Genesis gaining mainstream visibility. And of course, we can also expect big moves by Dapper Labs, not just given its successful track record but also based on recent news that it had become the first NFT company to register to lobby with the U.S. government. Just like in the real-world, collectibles are likely to continue appealing to collectors and fans worldwide.